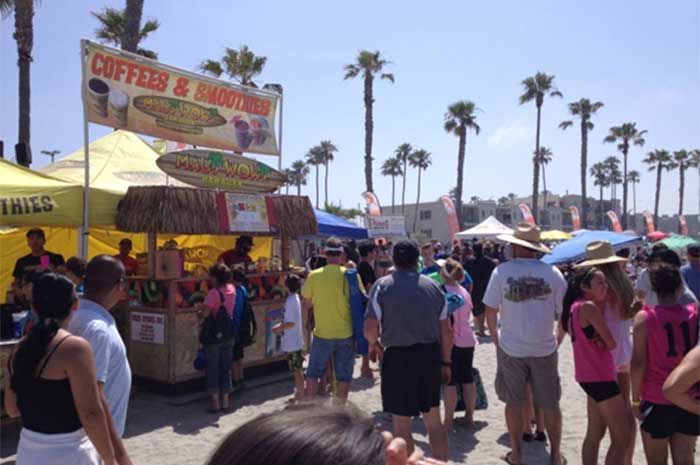 Meet Barbara Putnam. Maui-Wowi franchise owner, So. California
Maui Wowi is a great food franchise opportunity for entrepreneurs looking to be part of a quality brand and promote a healthy offering. Along with their exclusive line of non-fat yogurt smoothies and Hawaiian coffees, Maui Wowi franchisees bring the 'Aloha Spirit' to their customers and the community. Barbara Putman is a Maui Wowi franchisee in Southern California. As a mom and small business owner, being part of the Maui Wowi brand has given her the ability to spend more time with her husband and daughters while growing her company at the same time.
"We've always been business owners, but we wanted to do something new that could involve our whole family," Barb says. "We didn't want to reinvent the wheel - and with Maui Wowi we could just step in and follow their system. We pretty much decided to become a franchisee because they've [Maui Wowi] already done the hard work and put the system for success in place - and it's turned out really great for us."
Beyond the flexibility and unlimited smoothies, Barb loves that the overall concept of the franchise is relatively simple. Keeping the menu short and sweet - as well as the list of ingredients that go into their products - makes running the business much easier, especially for someone who has never owned a franchise before. "Maui Wowi is a beverage business and it's a simple product, simple concept - I think that's what makes it really easy to run."
For people who love to have fun and are hard workers, Maui Wowi is a great fit. The business model puts you out into the community, interacting with customers and sharing that happy, Aloha way of life. Barb relates her experience with Maui Wowi to her daughter's love of cheerleading. Similar to how you don't see cheerleaders on a football field without a smile on their faces, you don't see Maui Wowi franchise owners who aren't having fun.
"We're a fun concept - and if you're out there having a good time and portraying that 'Aloha' spirit, you'll be more successful."
And success in her franchise is something that Barb and her family have worked hard for. She recalls a recent trip to Hawaii with her husband and her kids, while spending some time on the beach. "I just remember thinking - wow. Our business is running right now - we had a manager going to events while we were gone - and we're earning an income. Yet we're allowed to be on vacation with our family. At that moment it just dawned on me. We are able to earn an income doing something that we absolutely love, and still getting time with our family and taking vacations. We had definitely reached success."
Something that Barb really credits her family's success to is the level of communication and support offered by the Maui Wowi brand. She's a firm believer that the more communication you have with your franchisor, the more successful your franchise will be. And she helps other franchisees within the Maui Wowi brand learn this as well, as an area developer. In this role, she acts as a liaison between franchisees in Southern California and the brand, helping them problem solve based on her vast knowledge after nine years of owning a Maui Wowi franchise.