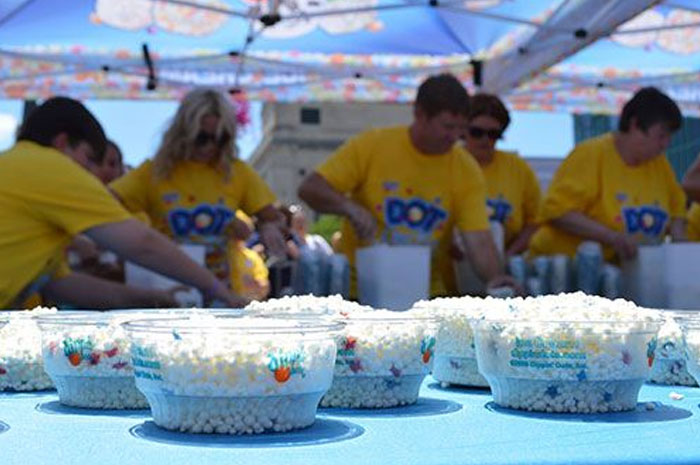 Franchise Success Story: Louie of Dippin' Dots
They're delicious, cold, and a sweet treat for all ages. And according to Louie Migliaccio, it's why everyone loves Dippin' Dots. That and the sheer novelty of eating ice cream with a shape. Thanks to the widespread exposure and his ability to share Dippin' Dots at events – sporting or otherwise – he said it's a combination that has allowed his success.
Just how much? Numbers that were way better than popcorn, ices, or any other cold treat. In fact, he's nicknamed it "gold in a cup." And having been in the concession business for years with his company, Champion Concessions, it's already positioned itself as one of Migliaccio's best sellers.
"It's selling like crazy," he said. Adding that, in the Texas heat, it allows customers to cool off, but won't melt as quickly as traditional ice cream. Between that and its novelty, and Migliaccio says he never has to worry about the product's shelf life.
"It's unique and can only be served at fun locations," he said. "It can't be taken home and put in the freezer, it's not something you can pick up in the grocery store. You just don't get it anywhere else. And it's just fun to have."
Migliaccio has been working with the company since 2006, when he joined as a Texas-based vendor, then expanded to a full-blown franchisee in 2008. Looking for something cold to round out sales, he talked with Dippin' Dots and was almost immediately hooked. He began hosting the product in his concession stands, such as at the University of Texas or his local Texas school district.
Since, he's expanded with the company, acting as a vendor to convenience stores and schools, selling at sporting and special events, school stadiums, and renting freezers (and selling the dessert) to malls or other Dippin' Dots-friendly venues. It's this flexibility, he says, that's allowed him continual growth. This includes keeping overhead low, as well as prep and cleanup time. When vendors are finished for the day, they simply pack up their cart and roll it away. After dabbling in a number of other concession foods, Migliaccio said to date, this just makes the most sense. (Though customers can still find a wide variation of snacks at his concession stands.)
Throughout Migliaccio's reach in Texas – Houston, Austin, and San Antonio – he said Dippin' Dots are hands down the number one seller at area country clubs. A stat they've been able to turn into additional sales with even more locations.
What Makes Dippin' Dots Unique
The reason Dippin' Dots can't be kept at home, however, is their need for extreme cold. While most ice cream is stored at around -10 degrees (at the coldest), Migliaccio said Dippin' Dots is stored at -40 degrees. This not only creates a product customers can only get at special events, but a market for renting and maintaining freezers. Currently, he has around 40 small freezers and 20 large ones, all of which are owned and maintained under his business. Additionally, he owns nine carts, which can be moved and relocated as needed.
On average, Migliaccio sells five to six flavors in each location, in addition to lactose-free products such as sherbets or yogurts. Local school districts are even purchasing Yo-dots – a school-approved yogurt product – for student lunches.
Personally, however, Migliaccio says Dippin' Dots is all about the taste; he refers to the product as a "premium ice cream."
"It's flash frozen very quickly to create a smoother product. You can taste more of the creaminess."
Advice for Potential Franchisees
As a businessman, Migliaccio said one of the most important things about running a franchise is to do what works on an individual basis. For instance, in his own stance with Dippin' Dots, he says he's adjusting to a more freezer-based and wholesale reach.
"We're just better equipped for it," he said. "I need to focus on what makes money for us." And with the small transition, he'll be able to better streamline business as a whole. Other franchisees, however, have taken a very different approach with the company and found just as much growth. A fact Migliaccio sings praises over. That flexibility is one of the reasons he signed up in the first place, and has stuck around for eight-plus years.
"Most franchises say 'This is how you do it,' and that's a great system, but with Dippin' Dots you have more flexibility," he said. "But you need to be business savvy enough to know what will work – they'll help – but there is that flexibility."
About Dippin' Dots
The company was founded in 1988 when Curt Jones, a microbiologist, wanted to recreate the way ice cream was stored. By flash freezing it, he wanted to lock in the product's flavor, creating a richer taste. The process, known as cryogenic encapsulation, is still how the ice cream is made today.
Dippin' Dots have to be stored in specialty freezers made in Denmark. They have a high-tech compressor so the ice cream stays cold.
Dippin' Dots are frozen with the use of liquid nitrogen.
After a year of research, founder Curt Jones began making Dippin' Dots in his parents' basement in Illinois.
The company began selling to fairs and festivals – its most popular events – in 1991.