Press Release
Read about the latest newsworthy developments with the franchise or business opportunity you have selected. Use the link below to navigate back to the brochure for your selection.
Totally Nutz® About Baseball
Please click here for more information on Totally Nutz
Gourmet Nut Franchise, a Delicious, Healthy Alternative at Sporting & Events Centers Nationwide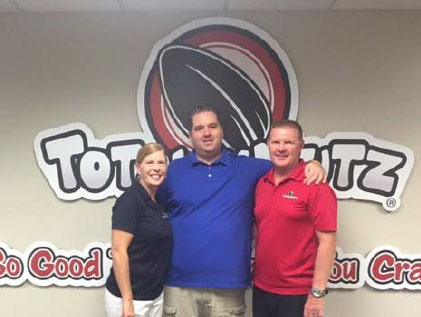 Yvette Barker, Todd Furnia, and Matt Barker
Totally Nutz is a mobile events franchise which pairs well with baseball, football, soccer and other sports/multi-purpose venues.
The business model is simple. We fresh roast and glaze nuts on site which fills the air with cinnamon, sugar, and vanilla. Fans literally follow their nose to find the origin of the wonderful aroma where they are welcomed with a fresh sample and a smile which seals the deal.
There are no territory limitations with this simple business opportunity. Franchisees can be a vendor at their favorite team's local field and follow the team during the off-season by arranging to be a vendor at the spring training camp.
Arizona Totally Nutz franchisee, Todd Furnia, and his team have been successful concessions partners at the Surprise Baseball Park in Surprise, AZ., and the Goodyear Baseball Park in Goodyear, Arizona for several years.
Totally Nutz was founded in 1990 by Matt & Yvette Barker. They were looking for a family-friendly business which would allow them to spend more time with their young children.
Totally Nutz is the perfect companion for cheering on your favorite team, attending a convention, or enjoying your favorite band. Totally Nutz gift boxes are excellent choices for gifting to, recognizing or thanking someone.
Cinnamon-glazed nuts from Totally Nutz are a healthier, gluten-free alternative than most options at fairs, festivals, and events venues.