Press Release
Read about the latest newsworthy developments with the franchise or business opportunity you have selected. Use the link below to navigate back to the brochure for your selection.
Nashville Franchisee Creates Partnerships with Local Area Sports Facilities
Please click here for more information on Totally Nutz
Brant and Lauren Lanham are sports fans and they were looking at low-cost franchise opportunities. They purchased their Totally Nutz mobile event franchise two years ago this September. Formerly, owners of a children's fitness franchise, the Lanham's were looking for a new adventure and found Totally Nutz while searching online. This is what Brant had to say about his experience.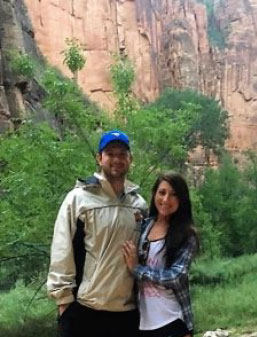 Lanhams
Why did you choose Totally Nutz?
I was looking for a simple business model that I could grow in the Nashville area. I love sports and knew that I wanted to work towards getting into some professional sports arenas. We started the education process to learn more about Totally Nutz which included flying out to Utah to meet the owners. We learned a lot more about the opportunity during this discovery day and decided to make the move.
What did you learn on your discovery day?
We toured the facility, viewed the packaging and the product, explored the mobile event carts. Several batches of cinnamon glazed nuts were roasted which allowed us to taste them fresh out of the kettle. After the tour we had the opportunity to sit down with the founders of Totally Nutz, Matt & Yvette Barker, to learn about their experience and ask questions along the way.
Tell us about your experience as a Totally Nutz franchisee
It has been a completely new experience for us working events. We started out working fairs and festivals, both locally and some which required travel. We really wanted to grow our business by getting into larger venues with more locations.
After a year or so we secured a spot at the University of Tennessee – Neyland Stadium. In 2018 we added a partnership with Nashville Music City Center, and the Nissan Stadium.
While we are approaching our 2-year anniversary with Totally Nutz, we feel like we are finally growing our business the way we originally intended. We will have multiple locations at all three venues. We are now completing the purchase of another 3-pack of licenses to meet the needs of these new venues.
What is your favorite part of being a Totally Nutz franchisee?
I like the freedom and flexibility to choose where and when I want to work. Being a sports fan, I really like working at sports venues. I am a Vols and a Titans fan, so it gets me a little closer to my favorite teams.